May 15, 2019
Hartford Foundation Names Melanie Tavares as New Director of the Nonprofit Support Program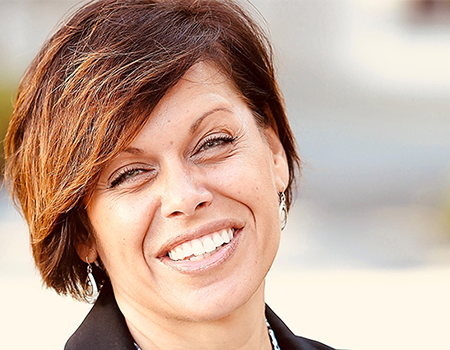 The Hartford Foundation for Public Giving is pleased to announce that Melanie S. Tavares has been hired to serve as the new Director of the Nonprofit Support Program. Tavares is an accomplished professional who has dedicated her professional career to eradicating poverty through the development of, and investment in, human and community capital.
"We are excited that Melanie will be joining the Hartford Foundation team to lead our Nonprofit Support Program," said Hartford Foundation Senior Vice President Judy Rozie-Battle. "She brings a diversity of experience in the nonprofit and education sectors. Melanie has the energy and strategic thinking that will build on the past while moving the program into the future. Under Melanie's leadership, our Nonprofit Support Program will play a significant role as we embark on a new vision and strategic plan for the Foundation focused on creating greater racial, geographic and economic inclusion in Greater Hartford."
Tavares was selected based on her extensive professional background in advancing equity through advocacy, strategic management, organizational leadership, nonprofit administration, and program development. Tavares honed her expertise in program design, funding and strategic management at several state and national organizations including the Massachusetts Department of Public Health, the Corporation for National and Community Service, MassHousing, YouthBuild, the Massachusetts Service Alliance, and Girl Scouts of the USA. She holds a Bachelor's degree in Human Services and Counseling Psychology from Lesley University and a Master's Degree in Community Economic Development from Southern New Hampshire University.
"It is a privilege and an honor to join the incredible staff of the Hartford Foundation," Tavares said. "I am excited to work with an organization dedicated to working with community members as we identify and meet needs and uncover new possibilities. I look forward to continuing the exceptional work done by the Nonprofit Support Program and gaining new colleagues in the Greater Hartford nonprofit community."
Tavares recently completed her final year as a Dean's Fellow in the Doctor of Education Leadership Program at the Harvard Graduate School of Education. As an Ed.L.D. Candidate, she served as an Ambach Fellow for Public Leadership at the Massachusetts Department of Elementary and Secondary Education, Doctoral Resident for Strategic Initiatives with Big Picture Learning, an international nonprofit dedicated to supporting student-centered education and worked with Education Reimagined, a national nonprofit working towards the creation of a learner-centered education system.
The Hartford Foundation for Public Giving is the community foundation for Hartford and 28 surrounding communities. Made possible by the gifts of generous individuals, families and organizations, the Foundation has awarded grants of more than $758 million since its founding in 1925. For more information about the Hartford Foundation for Public Giving, visit www.hfpg.org or call 860-548-1888.